A blanket sales order is a type of master order that contains specific quantities for certain inventory items at pre-determined prices that the customer can draw against over a set period of time. There are several ways using blanket sales orders can create a symbiotic relationship between Businesses and their customers.
Your customer commits to purchasing a large quantity which can qualify them for volume discounts
The pricing is set over the course of the blanket contract, which eliminated the possibility of pricing fluctuations
Eliminates cash tie ups induced by holding stock in a warehouse by allowing your customer to have a product shipped to them when they need it
Because you know what your customer needs and when they need it delivered, you know what to manufacture and when
They help your company reduce the amount of cash tied up in raw materials and components, while allowing you to schedule the resources needed to manufacture the product
So how do blanket sales orders work?
Let's say your customer predicts they will need 6,000 laptops over the course of the next twelve months. By committing to this quantity, you offer them an additional 10% discount off their current price and agree to ship 500 on the first of every month. In addition to agreeing to the price and shipping schedule, there are several other factors that should be taken into consideration. 
What happens if you're late delivering or can't produce the laptops? 
What if you manufacture them and your customer then decides they don't need the product?  What if they need more than 6,000 laptops? 
It's imperative to agree to all the terms and conditions of the blanket sales order up front, and in writing, so both parties understand their respective liabilities. 
Once the terms and conditions are settled, the blanket sales order is entered into your ERP order entry system. The quantity ordered is 6,000, which is then divided into 12 equal shipments of 500 each set to expire 12 months from today. 
Your ERP software should be flexible enough to allow you to revise the dates and quantities, as long as both stay within the terms of the blanket agreement, should your customer request this.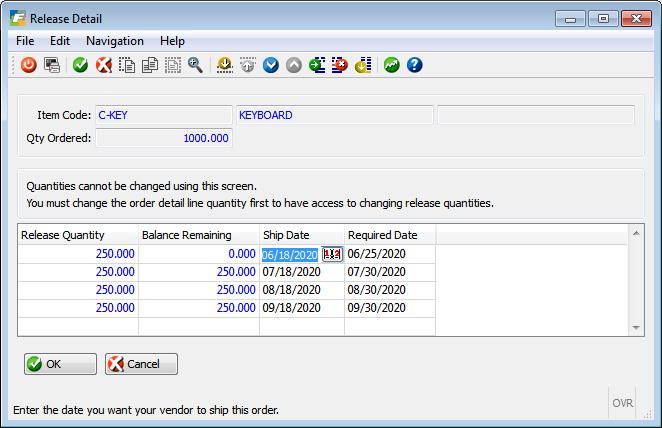 Any good MRP generation program should extract future unreleased demand from the blanket order and forecast the component quantities needed; adding these components to either recommended purchase or production orders at the appropriate time, which is calculated based on lead times and production times and your customer's required delivery date. 
Your ERP software should also include a pending release report that you can run periodically (or have set to run automatically daily) that will list all blanket orders that have pending releases scheduled before a given date. Another important report to have is a blanket order expiration report that will list all orders with pending releases that are due to expire before a certain date. This way, you can make sure all shipments are made before the expiration date. 
Using blanket orders is beneficial to both you and your customer. They get great prices and a delivery schedule that meets their requirements. In turn, you're able to more accurately forecast the materials and resources you need to meet that schedule.